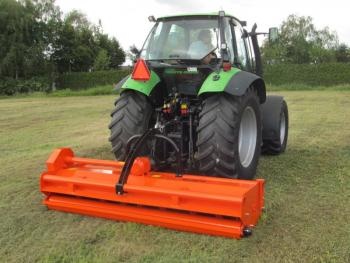 Rear Mounted Flail Mowers - Series KW
KW series flail mowers stand out by a straightforward yet very sturdy construction which makes them particularly suitable for heavier topping, on rough and overgrown land, fallow land etc. The standard configuration includes a headstock for tractor rear mount with manual offset possibility. Hydraulic offset is available as an option.
To protect the bearings of the large diameter rear roller, the bearings are fitted with unique covers to prevent humidity, dust and mud from entering. Standard on all "Perfect" flail mowers.
Rear mount flail toppers for pasture topping, uneven terrain end fallow land
Perfect KW flail toppers stand out by a simple yet very sturdy construction, which makes them the perfect machine for pasture topping, road side maintenance, shredding green manure, clearing of fallow land etc.
Stepless manual offset
The KW flail mower is equipped with a 3-point headstock for use in the rear of the tractor; this headstock can steplessly be moved to the side, enabling a 48 cm / 1'7" offset possibility.
Reinforced flails and drive
Our special steel 0,8 kg (1 3/4 lbs) standard flails with flat single cutting edges provide a clean and neat cut. They are fitted to the electronically balanced vibration-free flail rotor with heavy bolts and replaceable steel bushings.
The flail rotor is driven through 4 V-belts; this flexible drives provides the gearbox with an excellent protection against shock loads.
Like all "Perfect" flail mowers the KW rear roller bearings are equipped with special covers that give excellent protection against mud, moist and dust.