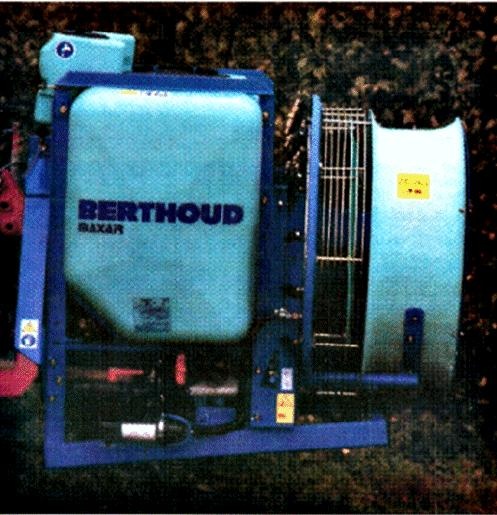 MAXAIR 484
MAXAIR 240
50, 80 and 110 Gallon Tanks: High density polyethylene. Large diameter filling hole. A separate safety hand wash-tank is supplied as standard, a rinsing tank is optional
Helicoidal fans made of compound material: 16"-240 24"-360 and 34"-484 (Corrosion resistant finberglass fan cowl on Maxair 484.)
2 PUMPS: Standard - APS 51:3 piston-diaphragm pump (13gpm, 291 psi) Regulator made of compound material (main and section valves) Optional-Gama 82:3 piston pump (output 801/22 gpm, 580 psi) Brass regulator and section valves.
Chassis: Backward titled for linkage facility protected by UHR paint. Different heights of Cat 1 hitch on Maxair with APS 61 pump.
Protected nozzle holders and nozzles arranged on a stainless steel boom on Maxair 484, without any disturbance of the airstream. The performance and the air dispersion. Standard Torex nozzles. Optional Biflo nozzles.
MAXAIR 484
| | |
| --- | --- |
| LENGTH A | 54" |
| WIDTH B | 42" |
| WIDTH E | - |
| HEIGHT C | 58" |
| HEIGHT D | 24" |
| WEIGHT | 574" LBS. |